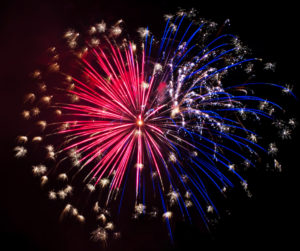 It's time for Fireworks! There are several ways to celebrate the 4th. One way is to see Fireworks! Check out these places to celebrate in Central Virginia. If you are wondering how to get your little one ready to see fireworks for the first time, you can check out this resource!
Richmond City
Where: The Diamond
What: Spend your 4th with the Flying Squirrels! A traditional favorite and an awesome fireworks display that starts immediately after the game!
When: Gates Open at 5PM with the First Pitch at 6:35PM Fireworks Immediately follow the game
Get your tickets here!
Where: Dogwood Dell
What: This event, held year after year, is a free family friendly event that includes vendors, food trucks, performances, family activities and of course fireworks!
When: Activities Begin at 6PM with Fireworks starting at 9PM
Henrico
Where: Crump Park (Red, White & Lights)
3400 Mountain Rd in Glen Allen
What: This family friendly event is fun for the whole family – complete with Kid Zone, Food trucks and musical performances.
When: Activities start at 4PM
For more information click here!
Chesterfield
Where: Chesterfield County Fairgrounds (The Chesterfield Fourth of July Celebration)
10300 Courthouse Rd, Chesterfield VA 23832
What: Join fellow Richmonders for a fun family celebration at the Fairgrounds. This event includes Kid Zone, food vendors, live music, special entertainment and of course FIREWORKS!
When: Gates open at 5PM with fireworks beginning at dark
Click here for more information!
Hanover
Where: King's Dominion
What: Celebrate the 4th of July at one of Virginia's favorite amusement parks.
When: The park opens at 11AM with a fantastic 4th celebration beginning at 9PM.
Click here for tickets and more information.
Goochland
Where: Goochland Sports Complex (Goochland County Fireworks)
What: Come out to the annual 2022 Goochland County Fireworks! This annual event is fun for the whole family.
When: Parking begins at 7PM Fireworks to start at 9PM
Powhatan
Where: Powhatan Fairgrounds (Powhatan Freedom Festival)
What: The Powhatan Freedom Festival – this annual festival has food, vendors, fireworks and live music
When: SUNDAY July 3rd – The fun begins at 5PM