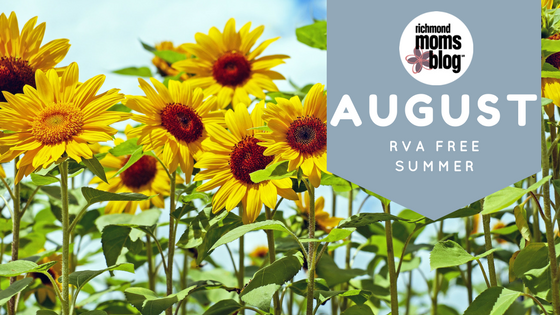 Here at Richmond Moms Blog, we're working hard to bring you FREE summer fun activities here in the RVA. For the month of August, here are some fun activities the whole family can enjoy. Have something you'd like to add? Email

[email protected]

or add it to our calendar.
Wednesday, August 2nd
Henrico Teen Theater Company: Simply Cinderella. This re-telling of the classic fairytale is fast paced and flat out funny! Overworked Cinderella swings her broom at the Fairy Godmother thinking she's a giant moth. Meanwhile, the Queen wants the Prince to choose a suitable bride, but he would rather play video games than dance with a girl. This upbeat, slap-happy fairy tale will delight performers and audiences alike. Wed-Sat, Aug 2-5, 10 am & 2 pm. Free. Call for reservations. Information: 501-5859.
Friday, August 4th
Movie Night @ Humphrey Calder (414 N. Thompson St): Featuring The Lego Batman. Activities begin at 8pm, movie starts at 8:30pm. Refreshments available for purchase.
Saturday, August 5th
Saturday LIVE at Meadow Farm Museum. Enjoy an afternoon of interactive, living history demonstrations as you explore this mid-19th century farm. Theme is Clothing and Adornment of the Slaves. 12:00-3:30pm at Crump Park/Meadow Farm.
Wednesday, August 9th
Willow Lawn Mommy & Me – Rocknoceros Children's Concert – 10:00am
Thursday, August 10th
S'more Summer Fun at Dunncroft/Castle Point Park. Come celebrate National S'mores Day with stories and music around the campfire. 6 pm-8 pm.
Friday, August 11th
12th Annual Filipino Festival at Our Lady of Lourdes Catholic Church.
Movie Night @ Forest Hill Park: Featuring Finding Dory. Activities begin at 8pm, movie begins at 8:30pm. Refreshments available for purchase.
Sunday, August 13th
Carytown Watermelon Festival
Bugstock 3: VDubs for Me! An afternoon of tie-dye, flower power, and Volkswagen Bugs and Buses! 12:00-4:00pm at Twin Hickory Park
Saturday, August 19th
Art Splash art showcase. See artists at work. 2 pm-4 pm at the Deep Run Recreation Center.