Its that time of year. Are you looking for a great way to cool off? Why not head over to one of our local spray parks? With four locations, Henrico Recreation and Parks have declared that the spray parks are open!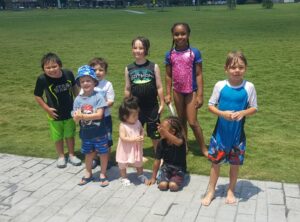 Splash pads are great for play dates and mom and me or dad and me dates. Guess what? They are also a great way to have a unique birthday celebration. The parks, designed for children 12 and under are open from 9AM – 7PM daily, weather permitting. Adult supervision is required.
You can find them at:
Short Pump Park – 3329 Pump Rd
Twin Hickory Park – 5011 Twin Hickory Road
Dunncroft/ Castle Point Park – 4901 Francistown Rd
Eastern Henrico Recreation Center – 1400 North Laburnum Avenue
Check out one, or make it a summer bucket list item to check out all four.
While the spray parks are a great way to cool off, we do want to remind you that it can get so very hot on the ground surfaces and water shoes are recommended. Make sure that if your baby or toddler would wear a swim diaper in the pool, they need a swim diaper at the splash pad. PS – don't forget the sunscreen.