The new school year is quickly approaching – are you ready for it? The laidback days of summer will soon be a thing of the past – we'll be back into harried mornings, prepping lunches, sports and activity-laden afternoons, rushed dinners and frazzled bedtimes. As professional organizers and moms, we get to work with a lot with clients (and ourselves!) on how to streamline high-traffic areas, schedules, and systems. Easy back to school organizing ideas? Yes, please! Below are some tips and tricks to get the the new school year off to an organized start.
The Drop Zone
When your kids get home from school, do you have a designated spot for each item? Or do they drop everything in a giant heap by the door that you then mountaineer over to get in and out of the house?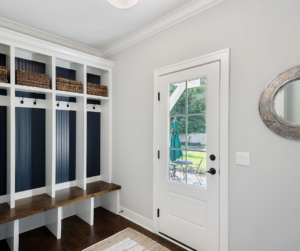 Every drop zone area should have the following:
A place for shoes: cubbies, shelves, baskets, or bins. Make sure there is a labeled container for each member of the family. This will help streamline mornings too. A place for backpacks and purses: hooks, cubbies or bins. Each child and adult should have their own. It's important that hooks be at a height that your child(ren) can reach, otherwise you'll still be climbing over backpacks on the floor.
A place for permission slips and papers coming home from school that need to be reviewed: mail sorters, hanging files, or vertical inboxes are great options.
A place for keys: it's a good idea to keep these separate from bags and purses – otherwise you are searching inside every pocket of every bag trying to remember where you left them. Command hooks are an easy option. A tray can also work if you have an entry table.
A place for your wallet and sunglasses – just like keys, it's a good idea to keep these separate from bags and purses. A small tray or bin are good options.
A bin for library books – whether from the school library or public library these should have their own area so as not to commingle with your personal stash. Somehow the libraries charge $420 more than Amazon does to replace a book, so it's a money-saving tip as well.
If your kids are involved in activities or organized sports, this may necessitate additional areas.
Head into the garage if needed – just make sure every item has a designated "home."
Morning rush
Nothing like running out the door to see the school bus has already driven past, or arriving at school after the car line has finished and doing the walk of shame to the front office to sign your kids in.
For getting dressed in the morning:
Take time on the weekend to pick out five outfits for the week. You can use a hanging clothes divider to put the outfits in or put 5 hooks on the closet door or wall to keep these outfits together. If you can't fit all 5 days, at least picking out the following day's clothes will be a help.
We may also have been known to let our kids get in their school clothes after bath the night before, so they can get up and go!
Store whatever your kids need for their morning routine on the *main level* of the house.
Store socks near shoes – even if that means they're right next to your front door. Having a basket or bin full of socks can be a lifesaver for mornings when you're running late.
Keep toothbrushes and toothpaste in the main floor bathroom (under the sink when not in use).
Keep hair accessories and a brush in the kitchen.
Trust us – that one flight of stairs somehow adds 2.75 hours to the morning routine. Keeping everything close and accessible will serve you well. To prevent these areas from looking cluttered, keep these items contained in bins with lids.
Lunch Prep
For many parents, packing lunches equates to little, tiny torture sessions on a daily basis. Here are some tips to help you do some prep-work, so that evenings and mornings are frustration-free.
Sit down for 20 minutes before the school year starts to map out the lunch options for the week – and repeat these options every week. Variety is overrated and consistency is great for streamlined schedules. Knowing in advance what your options are eliminates the stress of trying to think of what to pack. Bonus – this then becomes the base for your shopping list for the week.
Take 20 minutes on the weekend to wash, cut and chop and fruits or veggies you plan to pack.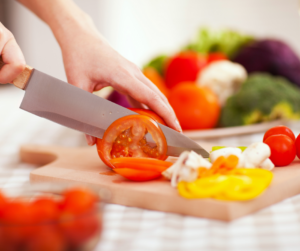 Stick them in Tupperware for easy access.
Sandwiches can be made in advance for the week, frozen in plastic wrap, sealed in a Ziploc and pulled out the night before (PB&J or any nut butter sandwich works great for this, as does deli meat.)
Leftovers can be a great option for school and don't require any extra prep. Just be sure to have a good quality thermos if things need to be kept warm.
Make an "assembly" line after dinner and have the kids help pack lunch for the next day (even the preschool and kindergarten crew can help with this!) Line up your protein, starch, fruit, veggie and treat, have each kid grab one from each pile, and pack it into their lunch bags.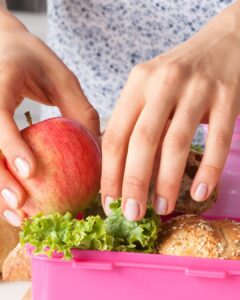 Pre-fill your reusable water bottles for the week and leave them in the fridge so kids can grab and go.
Plan for the kids to buy lunch if you need a break!
Homework
Having a designated homework area with any necessary materials and is a game-changer. Keeping supplies corralled into one place allows kids to be more independent during homework time. Research shows that hearing "Mom, where is my _____?" slowly eats away at your sanity, so there's that.
Fill a rolling cart or portable bin filled with paper, pens, highlighters, dry erase markers, colored pencils, scissors, and glue, etc. This can be transported to wherever they do their homework.
Starting the year off in an organized way, with systems in place, will make school days less stressful. We realize that "peaceful school day" sounds like an oxymoron but we know that these tips work. So here's wishing you a calm, peaceful, serene school year. And if we still see you running down the street after the school bus, your secret is safe with us.