It's that time of year again…your child comes off the bus or hops in the car after their last day of school with all the things: artwork, papers, art materials, school supplies, books and, and if you're lucky, moldy snacks and melted forgotten Halloween candy. You may be wondering since "the school year is over…now what do I do with all this stuff?"
Maybe you've been saving all the artwork and paper throughout the year and are stuck with a giant pile of guilt-inducing turkey handprints and letter tracings. Or maybe it's been years, and the stacks are taking over your storage closet. As moms and professional organizers, we know how much "stuff" comes along with kids each school year. Deciding what to keep, what to toss, and how to keep and toss these items can be daunting. We've broken it down to help you cull the amount to select only the most important and meaningful items, and help you figure out what to do with the rest.
Artwork
Especially large quantities of artwork come home with the younger crew: whether it's stickers on a scrap of paper, toilet paper roll creatures or elaborate art class projects. To select the most important ones, ask yourself:
Did the teacher do most of the "work" and my child simply glued or colored? If yes, toss or recycle!

Does this really demonstrate my child's creativity? If yes, it's a keeper.

Does the art include something specific to your child like handprints, fingerprints, or footprints? This is a "maybe" – if you've got lots of these, then pick 1 or 2 favorites.
Now that you've narrowed down the ones that are special, decide whether you want to keep the originals or keep them as digital images.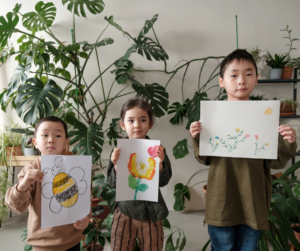 Digital Images
If you've got a decent amount, and not a lot of room for storage, photo books are a great idea. Kids love to flip through these books year after year. Snapfish, Shutterfly and other websites have inexpensive small softcover books that are perfect for this (and they frequently offer coupon codes when you sign up for their email list). Take a photo of the art with your child's name and the date on it, and then recycle the originals. Photographing the artwork with your child holding it adds even additional meaning because you can follow their artistic journey as they grow.
Too time-strapped to take care of it yourself? Artkive is an amazing website where you send a box of your kids' artwork and they professionally photograph it to create either a book or a mosaic. The final products are incredible and very high-quality.
Keeping the Originals
If you feel compelled to keep the originals (or your child busted you and found them in the recycling bin), choose one container for them to keep their artwork of their selection. Once it's full, they have to decide what will go when something new comes in.
Or try art frames with storage behind them – all the art is contained in one space and the display piece can be rotated as desired. (Here's an inexpensive option: https://amzn.to/3wUZlGZ)
Schoolwork
A lot of the same criteria applies to schoolwork that applied to artwork.
Did the teacher do most of the work and the child just filled in the blank? If yes, toss. Unless the answer is hilarious in which case, keep it and remind them of it at their wedding.

Does it reflect your child's creativity? If it's original story writing or demonstrates and innovative way of thinking, it's a keeper.
Is it very specific to your child as an individual? If it reflects a characteristic or quality that's unique to your child, keep it.

Storing Schoolwork
You can use the same bin idea we mentioned above. Pick a bin size that will easily fit where you plan to store it. Once it's full, if new schoolwork comes in, something less important has to be moved out.
We love to micro-organize with a bin that holds hanging folders – get one folder per year and file the special items into the corresponding school year. (Here's one bin to try: Super Stacker File Box)

Extra art and school supplies
What to do with partial box of crayons, half-used pencils and extra paper?
Save for next year! Have a bin designated specifically for school supplies. When you get the list for the following year, check to see what you already have. This saves time and money and creates less waste. There is also no shame in ripping out the 10 or 20 pages used in a composition book and using it again the following year. (Speaking from personal experience….)

Too late and you already own 14 pairs of scissors? Donate!
Many non-profits will accept gently used school supplies. Call or email in advance to be sure they are accepting whichever items you have.

Your child's teacher or school might even consider using some extra supplies – dry-erase markers and other items they go through quickly might be appreciated.
A couple of other things to keep in mind:
Artwork with ribbons, buttons, or things glued on cannot be recycled – you can try pulling those items off to recycle the paper, otherwise they need to be trashed.

Don't use Banker's boxes or cardboard to store your child's artwork and schoolwork. Plastic will protect from moisture and critters.
Using these tips can start your summer off on the right (decluttered) page knowing you've kept only the best. Now, we've got to go toss those moldy snacks and melted candy….