Fall is absolutely one of our favorite times of the year.
We love how the temperature gets cooler and the days are shorter. There's more time for cuddles indoors and family dinners. Its a season of warmth and family and the comforts of home. But who wants to spend hours in the kitchen? Need to put something together in a jiffy? Check out these delicious quick and easy fall recipes:
Pumpkin Fluff Dip
Ingredients:
1 (16 ounce) container frozen whipped topping, thawed
1 (5 ounce) package instant vanilla pudding mix
1 (15 ounce) can solid pack pumpkin
1 1/4 teaspoon pumpkin pie spice (adjust this to how "pumpkiny" you want it.)
Instructions:
In a large bowl, mix together instant vanilla pudding mix, pumpkin and pumpkin pie spice. Fold in the thawed frozen whipped topping. Chill in the refrigerator until serving. Serve with ginger snaps, Nilla wafers, or cinnamon graham crackers.

Slow Cooker Cozy Corn Chowder
This slow cooker corn chowder is creamy, delicious, and simple to make!
Yield: 4-6 servings
Ingredients:
1.5 lbs baby red potatoes, diced
1 (10 oz) bag of frozen corn
¼ cup whole wheat flour
6 cups vegetable broth
½ tablespoon chopped fresh thyme
1.5 teaspoons dried oregano
3 cloves of garlic, minced
1 teaspoon onion powder
salt and pepper to taste (I used 1 teaspoon each)
2 tablespoons earth balance buttery spread (or butter)
½ cup heavy cream
Instructions:
Dice potatoes and add to crockpot
Mince garlic and add to crockpot
Add corn, thyme, oregano, onion, and salt and pepper.
Add flour and stir everything so that spices and flour coat the potatoes
Pour 6 cups of veggie broth over the potato mixture
Cook on high for 4-5 hours or low for 6-8 hours
Once finished cooking, add earth balance and heavy cream and stir. Serve immediately and enjoy!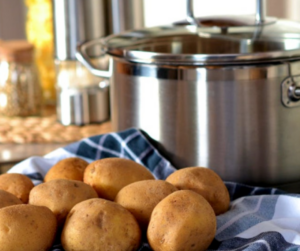 And a fan favorite…
Homemade Lara Bars
Ingredients:
1 cup gluten-free granola
1/2 cup pitted medjool dates
1 tablespoon water
Your choice of ad-ins (dried fruit or berries, chocolate, nuts)
Instructions:
Blend in food processor until combined (will start peeling from the sides).
Add a little bit more water if needed.
Spread into desired dish. I multiplied this x 4 to make a 9×13 pan.
Top with any of your favorite add-ins. I love Enjoy Life Foods chocolate chips!
Want to add a quick and easy dessert to these quick and easy fall recipes? Check out our Best Ever Pumpkin Cream Cupcakes.